The
Chevy Equinox
is sure to hold its own when compared to the all-new Ford Escape. The new Chevrolet Equinox was launched in 2010 and has been a leader in the smaller SUV segment for the past 2 years. The Equinox has done so with the many awards and accolades from Consumer Reports,
JD Power
and Kelley Blue Book, just to name a few. Quiet, comfortable, a great warranty, and safety also make this SUV stand out among a crowd.
See how these two SUVs compare: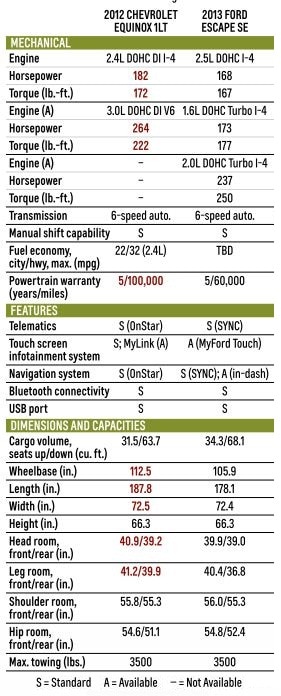 As you can see the Chevy Equinox boasts more horsepower and torque in the standard 4cyl and 6cyl engine.
With GM's 5 year 100,000 mile powertrain warranty you have no worries! Ford's offers a 5 year 60,000 mile powertrain warranty. Who takes care of you for the rest of the time?
OnStar is a proven safety and security feature that will keep you safe before and after a crash.
Longer wheel base = a smoother more comfortable ride.
We think that head room and leg room are very important, especially when you spend a lot of time behind the wheel.
Equinox's 5 Key Benefits:
Proven, Efficient Engine Choices:
2.4L DOHC DI 4cyl- Delivers unsurpassed 32 mpg highway and a range up to 600 miles per tank in the front wheel drive model.*
3.0 DOHC DI V-6 - Delivers 24 mpg highway in the front wheel drive models.
Proven, Intuitive Infotainment System
Lane Departure Warning
Forward Collision Alert
Better Warranty
More Interior Space/Flexibility
Multi-Flex sliding rear seat allows for more leg room or cargo space.
More front seat head room.

Equinox Accolades
Proven Technology
Chevrolet MyLink is intuitive and easy to operate with multiple methods to access media and popular mobile apps. On the other hand, SYNC with MyFord Touch is less intuitive than MyLink; everything-including climate controls and heated seats-are operated through the touch screen and there are no redundant controls.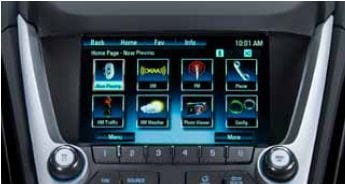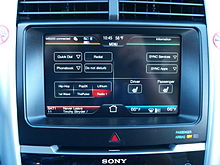 Chevy's Radio Ford's Radio

MyLink has enhanced, intuitive voice commands. Ford has a large number of voice commands the system recognizes. What they don't say is that the commands are less intuitive.
Equinox 4-Cylinder models include Active Noise Cancellation (ANC), which counteracts audible harmonics created from tuning of the engine for optimal fuel economy. ANC uses microphones to detect sounds inside the vehicle and sends counteracting sound waves through the audio system speakers, ensuring a quiet driving experience at almost all vehicle speeds. The Ford Escape offers nothing comparable.
New Available Safety Features

The Chevy Equinox offers available Lane Departure Warning and Forward Collision Alert. These two safety features are

NOT

available on the Ford Escape.
Better Warranty

The powertrain warranty is 40,000 miles

longer

on the Equinox than the Ford Escape

.



Proven, Efficient Performance

4-cylinder front wheel drive models deliver unsurpassed 32 mpg highway fuel economy and a range up to 600 highway miles per tank*.

The Eco Mode alters shift points to help increase fuel economy.

6 Speed transmission allows a lower lift speed.

Low rolling resistance tires have less friction than conventional tires.

Available 3.0 V-6- This option is not available on the Ford Escape. They offer on 3 choices of four cylinder engines.

The Equinox

has has more horsepower than both the Escape 1.6L and 2.5L 4 cylinder engines, and Equinox's V-6 engine has more horsepower than Escape's 2.0 4cylinder.

For maximum efficiency, both Equinox engines include direct injection; none of Ford Escape's engines include direct injection technology.

Both Equinox and Escape offer all-wheel drive systems. On the Equinox, all wheel drive is available with the base engine. However, Escape models with the base engine are available with front-wheel drive only.
* Based on GM Compact Crossover Segment. 2013 Ford Escape mpg not yet available.