If you are a college senior, recent graduate or graduate student, you can receive the same discounted price GM suppliers receive on brand new Chevrolet or GMC vehicles through the GM College Grad Discount Program. This great value is available exclusively from GM.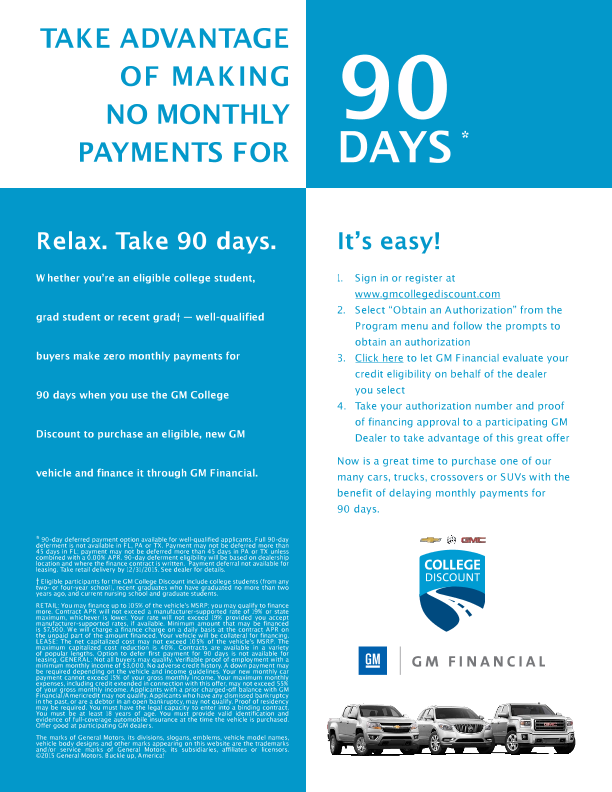 Taking advantage of your college grad discount is easy. Just follow these simple steps:
1. Visit
www.gmcollegegrad.com
.
2. Select "Obtain Authorization" from the left menu and begin the simple three-step process:
       Step 1  Enter your date of birth and ZIP Code that appears on your driver's license
       Step 2  Review your information and the rules and guidelines
       Step 3  Print your new authorization number
3. Present your authorization number and proof of program eligibility to Copple Chevrolet GMC Sales Consultant. For program eligibility requirements, see FAQs.
You will be driving away in the brand new Chevy or GMC vehicle of your choice in no time!
Here, you can also:
Read a list of Frequently Asked Questions.
Connect to the
latest incentives
.
Shop for new
Chevy
or
GMC
vehicles
.
And more!
So don't wait to pick out your
new Chevy
or GMC
vehicle
and take advantage of the GM College Grad Discount Program today!
 FAQs
Who is eligible to participate in the GM College Grad Discount Program?
An eligible customer must produce one of the following:
A diploma dated no more than two years before the vehicle purchase or lease, from a four-year bachelor's degree, a registered nursing degree, a two-year associate's degree or a graduate degree program.
A document from the college showing intent to graduate within six months after the date of the vehicle purchase or lease.
Evidence of enrollment in a nursing or graduate degree program.
Which GM vehicles are eligible?
Almost every new and unused 2008 and 2009 GM passenger car, SUV, crossover and light-duty truck is eligible. Eligibility of GM vehicles may change at any time without notice.
To see a list of excluded vehicles, visit the home page and select Vehicle Eligibility from the "Vehicle Shopping" drop-down menu. Some other models may have limited availability.
What is the vehicle discount?
As an eligible college senior, recent graduate or graduate student, you can purchase vehicles at the supplier price, which is a special discounted price reserved for GM's preferred suppliers that is less than MSRP. To compare the MSRP to the supplier price, click here. 
How many vehicles am I eligible to purchase/lease?
You may purchase/lease up to two eligible
new
and unused vehicles per year.
Can I receive this discount from any GM Dealer?
This program is available through all participating U.S. GM Dealers and is voluntary on the part of the dealers. Dealer participation is on a vehicle-by-vehicle basis. Please inform
Copple Chevrolet GMC
of your intention to use the GM College Grad Discount during your first contact with your dealer. If your dealer elects not to participate, you may visit another dealer.
How do I get the GM College Grad Discount?
Visit
gmcollegegrad.com
to request your authorization number and bring it to your salesperson at Copple Chevrolet GMC, along with proof of program eligibility, to receive your vehicle discount.
Can I combine the GM College Grad Discount with current incentives?
Yes, in most cases. Contact Copple Chevrolet GMC for details on eligible incentives, or view current incentives at
gmcollegegrad.com
to see how the values add up.
Can I order a vehicle through this program, rather than choosing one from inventory?
Yes, you can receive the discount when you order through Copple Chevrolet GMC.
Can I combine this with any GM reward card earnings?
Yes, you can combine the GM College Grad Discount with Earnings from any GM reward card. Earnings from the GM reward cards are in addition to most current incentives GM may offer.
How can I apply for a GM reward card?
You may apply online anytime for any GM reward card at
gmcard.com
.
Do I have to purchase or lease through Ally?
You do not have to purchase or lease through Ally.
Are dealer-installed options covered by this discount (e.g., theft-deterrent devices, etc.)?
No. Any additional dealer-installed options, conversion/upfit packages, General Motors Protection Plans and other extra-charge items will be supplied at a price agreed upon between the customer and the dealer.
Are dealer demonstration vehicles included in this program?
Yes, if the vehicle has less than 7,500 miles and a dealer demo allowance has not been paid on the vehicle. See your dealer for details.
Can I use a trade-in with this program?
Please
contact us
for more information about trade-ins.
Does the purchase/lease require a down payment?
Copple Chevrolet GMC will be able to provide details on the down payment of your chosen vehicle.
How long do I have to keep the vehicle to qualify for the GM College Grad Discount?
Eligible vehicles must be retained for a minimum of six (6) months if purchased or leased, except Chevrolet Corvette (excluding Corvette Z06, which is not eligible) which has a required retention period of two (2) years from the vehicle delivery date.
I recently bought/leased a new GM vehicle. Can I still apply for the GM College Grad Discount?
No. Previous purchases/leases are not eligible.
Can I share my GM College Grad Discount?
No, however, vehicles can be co-titled.
How can I find out more about a specific GM model
?
 If you have any questions about vehicle features, pricing, model eligibility, leasing and
incentives
contact us
at Copple Chevrolet GMC and we would be more than happy to help.
Copple Chevrolet GMC give you college discounts on these Chevrolet vehicles:
Chevrolet Silverado 1500
Chevrolet  Equinox
Chevrolet Cruze
Chevrolet Malibu
Chevrolet Traverse
All Chevrolet New Models
GMC vehicles:
GMC Acadia
GMC Terrain
GMC Sierra 1500
GMC Yukon
GMC Canyon
Copple Chevrolet GMC offers the GM College Grad Program to:
Omaha, Ne
Gretna, NE
Papillion, Ne
Plattsmouth, NE
Bellevue, NE
Springfield, NE