Why We Recommend GM Quality Parts!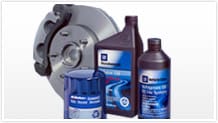 Proper care and service can help you enjoy your GM vehicle to the fullest. That's why we've provided you with the resources you need to help maintain and personalize your GM vehicle.
High quality GM Parts are the only products specifically designed, made and tested to help keep your GM vehicle running at peak performance and appearance, after all, your vehicle is an original. It pays to keep it that way. Whether you're restoring an old favorite or personalizing your newest vehicle, count on GM Parts to provide genuine dependability.

Copple Chevrolet GMC carries a full line of genuine GM Parts and AcDelco parts, each one designed and manufactured to exacting standards for your specific GM vehicle.

Copple's Customer Commitment

We are dedicated to providing you with the best service. In our commitment to you, we pledge to do the following to get your vehicle serviced the same day.

*If the part needed for your vehicle is not available from our Parts
Department, we will attempt to acquire the Genuine GM part
locally, the same day.
*If the part is not available locally, we will order the part on a
Customer Special Order form from General Motors.
*If a Customer Special Order must be placed, our Service Advisor will
phone you the same day that your part is received from General
Motors. At this time, an appointment will be made for the part to be
installed on your vehicle.

How Can We Help You?

GM ACCESSORIES Tire Finder Service Specials

Tim Woodruff, our parts manager has been here over 20 years working in the parts department so you know when you are calling you are getting a knowledgeable answer. So if you need a key cut, GM Accessories, Maintenance, or ACDelco items for your GM vehicle, and tons of other items to keep your GM vehicle on the road. Give Tim Woodruff a call and he will be glad to help you out. You can contact Tim either by calling the dealership at 866-662-1644 or send him an email at timwoodruff@copplecars.com.


Copple Chevrolet GMC has a parts department that serves:
Plattsmouth NE

Gretna NE
Papillion NE
Bellevue NE
Omaha NE

Louisville, NE GMC and Chevrolet Car Parts - Copple Chevrolet GMC
Our Louisville GMC and Chevrolet car parts department has a comprehensive selection of car parts and accessories at competitive prices. We have tires, mufflers, rims, brakes, mirrors, gauges, air conditioning parts, floor mats, transmissions, engine parts, bumpers, grilles, and hoods - everything your vehicle could ever need.
The Copple Chevrolet GMC auto parts department is ready to serve all your needs for GMC or Chevrolet auto parts in Louisville. With our huge parts inventory, we probably have the part you need in stock now. If we don't, we can get it quickly. Order your parts right now by using Copple Chevrolet GMC's online parts order form.
Take a look at our auto parts specials for current discounts on a selection of parts and accessories for your GMC or Chevrolet vehicle.
Stop by our Louisville GMC and Chevrolet dealership at 306 Main Street.